STRADA 1200
Where You Can Choose Your Vibe
At the epicenter of it all, Strada 1200 is Vacavilles newest and most desirable, modern living apartment community. With only footsteps between you and Vacavilles' best eateries, entertainment, nightlife, and parks & recreation, you will not have to wander far to find your next adventure. Strada 1200 separates itself from other Vacaville Apartments with our resort-style amenities that simply compliment the modern interiors. This is to be expected of a community of this caliber. Call today and we will introduce you to your brand new apartment home!


Resort Style Pool
Need a refreshing way to start your day? A place to bask in the sun on the weekends or even a place to wind down at sun set? Our resort style pool will leave you breathless. With comfy loungers, umbrella shade and a bubbly hot tub, we've got all of your rest and relaxation covered.
Fitness Centric
Our state of the art fitness center is at the pinnacle of its league featuring top of the line exercise equipment. With everything from professional cycling bikes to an array of free weights, our gym is packed with your favorites. To keep your workout fresh we have a variety of sport courts including Bocce Ball, PickleBall, Horseshoes, and Basketball... to keep. If sun salutations are more your thing, take your practice to our tranquil Yoga room, where you can center yourself through meditation or practice inversions. We've got it all.
Pet Friendly
At Strada 1200, your pets lifestyle is just as important to us. Our ultramodern pet spa features a luxury dog wash station to make at-home grooming hassle-free. Our property also hosts an incredible bark park for tons of room to roam, sniff, fetch, and make other pet friends.
Envision your Life on 1200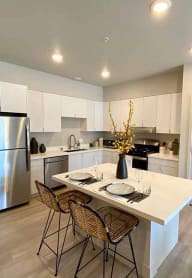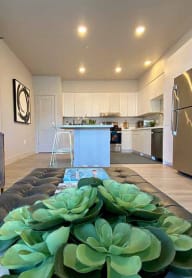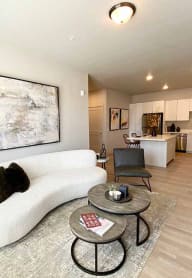 Testimonials
Moved in mid October 2020 and both me and my husband love it. The Apartment is by far one of the nicest I've ever lived in and the staff is just amazing and super friendly and helpful. When we moved in we had so many boxes from furniture etc that it was too heavy to carry to the dumpster and the maintenance guys helped us out right away. Big shoutout to the girls from the front office and the maintenance team. Love it!

- Google Review: Dana Cavazos
Aside from the fact that the apartments and the complex are amazing and I cant wait to move in to my new home, the customer service is top notch! As a business owner myself, I place customer service as a priority and these folks are at the top of their game. I've had the pleasure of working with Shy, Alyssa and Destiny and they have all provided me with the most professional, kind and courteous customer service. They are all pleasant and have the most positive energy. I have had such a rewarding

- Google Review: Emily Haley
Just moved here the middle of July and I'm already so happy I moved in. I'm fresh out of college and my first and only apartment before Strada 1200 was fine and normal. That's what I came to expect with all apartments, but I see now that I was missing out on a much better experience. Everyone at the front office was so nice and efficient when helping me with a mistake that I made during the application process. Specifically Brynna and Destiny were very helpful and patient with me; everyone was

- Yelp Review: Julia O.